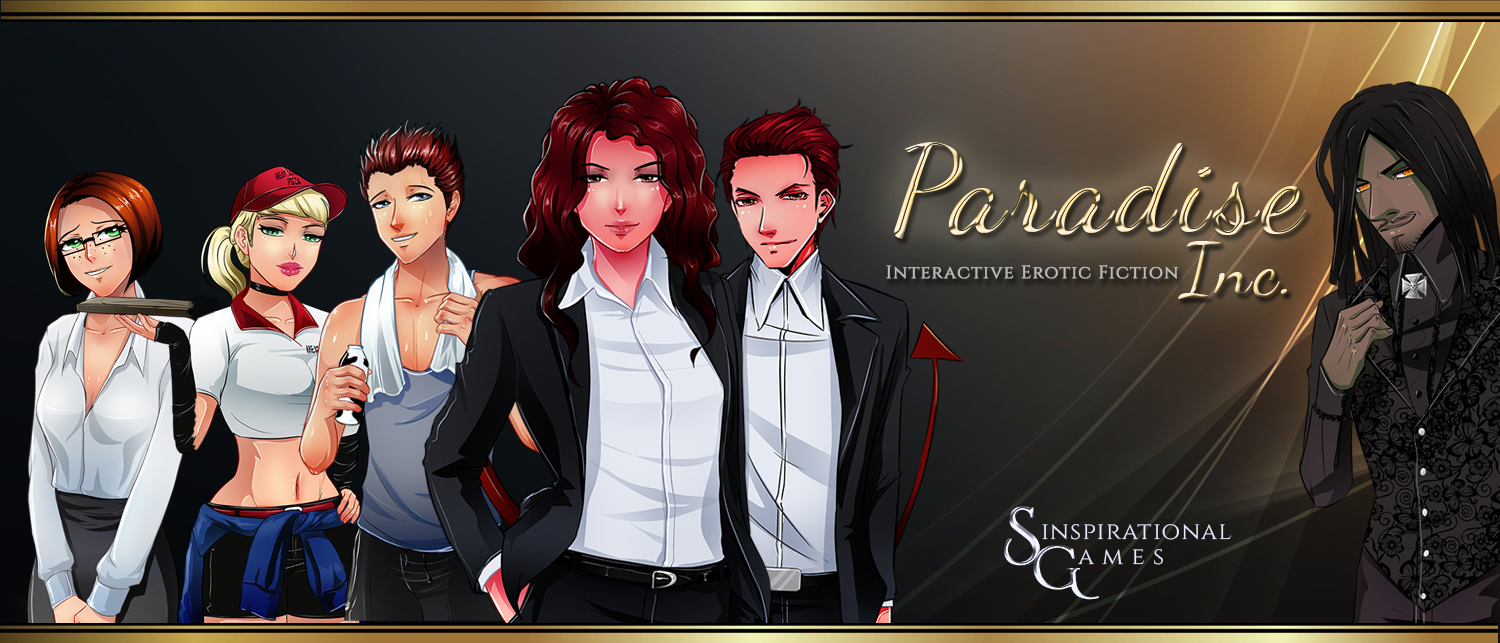 Paradise Inc.
You've been transformed into a succubus (or incubus!) and put in charge of a luxury high-rise whose real purpose is identifying unhappy humans who would be happier in a new form. A little magic -- and a lot of steamy encounters -- later, and you've got one more soul and one more employee on the payroll!
This game is a statless CYOA story with branching paths for each transformable character. Play as either a dominant or submissive boss and grant fantasies in the way you see fit! The game currently contains over 500,000 words and content for the first month of your stay in game.
| | |
| --- | --- |
| Updated | 24 days ago |
| Status | In development |
| Platforms | HTML5 |
| Release date | Feb 01, 2020 |
| Rating | |
| Author | SinspirationalGames |
| Genre | Interactive Fiction, Role Playing, Visual Novel |
| Made with | Twine, Adobe Photoshop |
| Tags | Erotic, Fantasy, LGBT, Meaningful Choices, Romance, Singleplayer, Text based |
| License | MIT License |
| Average session | About an hour |
| Languages | English |
| Inputs | Keyboard, Mouse, Touchscreen, Smartphone |
| Accessibility | High-contrast |
| Links | Patreon, Homepage, Twitter, Discord |
Download
Click download now to get access to the following files:
Comments
Log in with itch.io to leave a comment.
enjoying playing through for like the fourth time now. its ones of my favorite games.
Many thanks! We hope we keep delivering into the future!
im quite excited to see what you guys do for the next part, and to see who you bring into it next.
Thank you so much! Be sure to check back in 2 weeks, we've got a new update about to drop!
hi. This game is godlike, and possibly my favorite out of all of Itch's selections, but I do have a question. Is there a good way to predict where Mr. Reporter goes? Because half of the time I fail, and the other half, I worry that I won't have time to romance Petra and get enough souls.

If I can't, that's okay. The save feature is there for a reason!
Hey there!

So, he can be a little tricky on the first time, but I will tell you the secret. He'll always strikes on the third night. Which means you can tell Petra to watch a location twice (which will eliminate it from the pool for that attempt)

The first attempt he could be in 5 places, and you can eliminate 2 (by telling Petra to watch them each night), and then you have a one in 3 chance.

The second attempt, Petra eliminates one of them herself. You can eliminate 2 again, so you're now a 50/50 chance.

And if you're massively unlucky, during the final sequence Petra eliminates 2 of them herself as she gets to know your intruder. If you tell Petra to eliminate 2 locations, you know exactly where he's going (there's even a special variation when Petra straight up tells you she knows where he's going to be).

Cheers!
Where can I download the Image Pack?
I love this game! It's pretty fun, and I especially appreciate being able to change what gender the MC is when we want to in the second chapter. Sometimes, I'll get surprised by not being the gender I want to be for a particular scene (usually Futa when I want female), but then I can just rewind to before the scene started and change my gender! Really great feature, and the only complaint I have is that there aren't any interactions with the bank or casino outside of talking with that one woman (forgot her name) and that there aren't any more soulgems as far as I'm aware, but I know that'll change as it gets updated more.
Also, I found a gender mix-up when Jolie is a dominatrix and she's holding onto the MC. I have female chosen, but it said 'cock' when it mentioned her letting go.
Thank you for the kind words, and the bug report! We test as much as we can, but we do depend on people letting us know. Indeed, we'll be expanding content out over time. Our latest backer build just released on Monday, in fact, which allows you to transform Petra into either a Siren lure or a dark elf dominatrix! We'll be doing the public release everywhere, including Itchio, on the 19th, so look forward to that!
I think I found another gender mix-up! I was doing Jolie's cow girl transformation as a guy, but it gave my character she/her pronouns, despite the fact that I don't think I was doing a futanari. If I was, then that's still a gender mix-up because it had the guy picture with red hair for my character even though I chose black hair before the scene started.
They are so sneaky! We'll review those, see if we can't catch the source of it! Thank you!
I also found a typo, when our character first meets Lazren, it says 'black and white wings bird-like wings'! Also, you're welcome! I'm glad to help such amazing game makers! This game is absolutely incredible!
Well, this was really good. I really look forward for more updates.
We're working on the next one! We post regular status updates over on our Patreon page. No firm release date yet, but our 'to do' list is getting shorter by the day. <3
any idea when the next update is?
Hey there! We do, actually. The backer build just hit patreon on the 31st, with the public release scheduled for April 14th. We'll be updating Itchio along with the public release. You can find the patch notes here: https://www.patreon.com/posts/version-1-0-2-35337964

PS, we are looking into the android thing. We thought this file would be phone agnostic, but admittedly, it isn't either of our specialties. Let us know if you did get it working in the end!

-Cambion
is there going to be a version for android users.